Dave Murphy - Prayer Team Leader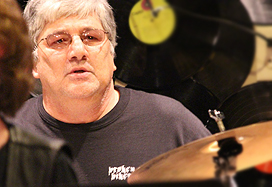 My Name David Murphy. At least that's what my mother named me the day she gave birth to me. For the longest time though, I was whoever and whatever anybody called me. For years I lived with that title. My life went like that from the time I was born to the day I claimed my identity in Jesus. I was cursed with an orphaned spirit.

Due to a series of events, I was shipped back and forth to live with grandparents. I never really knew where I belonged. The man who fathered me died a drunk and because of his addiction, I never really knew him. And as I became older, resentments kicked in because I didn't have a life like most boys in my school. You know, like father and son nights. I gave up on trying to fit in. The pain I kept inside me became who I was. The dream of bonding with a father figure had died. I became what the streets had to offer. A life where pure anger and stuffing was part of the norm. I took the drugs, and drinking to kill the pain. With all that came a number of arrests. I left my mom's house when I was 16 because my lifestyle was causing her pain. One night, when I was staying with a friend, three boys came to his house to beat him up. (At the time the house next door was a club house for the local M.C.) Anyway, I was in one of my dark moods and heard these kids shouting his name outside. So I went outside with a baseball bat and chased them away. Well, the guys next door loved it and they took me under their wing.

I guess you can kind of figure out the rest. My life totally changed. For the first time my sadness wasn't an issue I found what I thought was the belonging I have searched for. That's how it went for a long time; fighting and drinking and arrest after arrest and having a twisted title as a "Loyal Brother". One day I was locked up and I could not remember what I was locked up for.
That was the turning point. I was losing my edge. I can remember walking home that morning and kind of praying. I looked up at the sky and asked "haven't you done enough to me. I never asked for the pain or even being born. So if You are who people say You are, then when is it MY turn to feel real love and real family?".

I remember asking God to take my life because I couldn't deal with it anymore. Well, a very short time later my brothers were moving to Florida and because of probation I could not go. "Alone again!" I remember saying.

One night my kid brother was trying to get his life together and a family member asked me to come and support him. I went to an AA meeting, buzzed out of my mind. Well that was the night God did take my life and from that night to this one, I haven't touched a drink and or drug. He gave me a new life. A life I had been chasing for a very long time. Today, because I now know what my identity is, I am the child of the King of all kings. I will go and do whatever He asks me to do in order to honor the NEW life He gave me. It has been a road of struggles, and sometimes a bit lonely, but I walk today with the dignity that "The Father to The Fatherless" has given to me!